I am a person who seldom get sick, if I really get sick, it gonna be a BIG one.
That's why my title is "Chicken Pox Epidemic 2012". Sound BIG issue?
Today is still Lunar New Year Season and I just got chicken pox 2 days ago and only today am able to get to the computer and blog. So unluckily am I or am I lucky? 😉
Last 2 days, I was feeling very terrible. Got Fever, fatigue, back aches, neck aches, headaches, coughing, and loss of appetite and the worst things ever is the red spots appear on my whole body causing itchiness… Ouch!
I just took a photo of my face to show you how the chicken pox affect my body. As for the rest, it's too unpleasant to see, so I did not post it.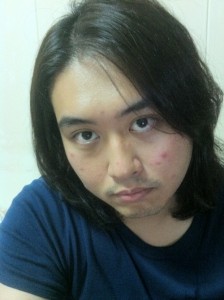 These 2 days, when I was resting and fighting the virus of the chicken pox within my body, I did some reflection…
In my mind, I ask myself these question…
"What will happen if I can't work and I don't have income to support my family?"
"What if I'm still holding a job? These few days I can't work, what happen to my income?"
"If the disease I got is worst than the chicken pox, and I can't even work for 1 or 2 months,  what will happen to my family members if I did not work and bring income to the house?"
"What are they going to eat? Who going to pay the bills?"
Oh man… when this hit my mind… I am worried at the same time I am grateful and relax…
Why?
Luckily, few years ago, I made a decision to have a backup plan. The backup plan help me to have a more secure income than a job. I never regret since I started my own home business using the power of internet.
Even I'm sick, my home business is operating normally 24/7 and paying off my bills, sport car and house…
What about you?
Do you have a backup plan?
If no, I suggest that you take some of your precious time to consider one.
If  you not sure what to do, let me show you a program which I come across recently which I highly endorsed personally. I'm also sure that it can help you get started fast and build your backup plan in year 2012.
Recommended program to get you started to create a stable backup plan.
It's a video explanation(23 mins only) wait for the clock to hit zero.