Just an update of what's I'm currently doing these few months.
If you have seen my facebook, you will see some of the things that I have been doing.
I have been building up my business empire while I was traveling.
That's why I'm not always in Singapore.
This is a sneak peep of how it's look like when you are able to 'Escape the 9 – 5, Live Anywhere and Work Anywhere'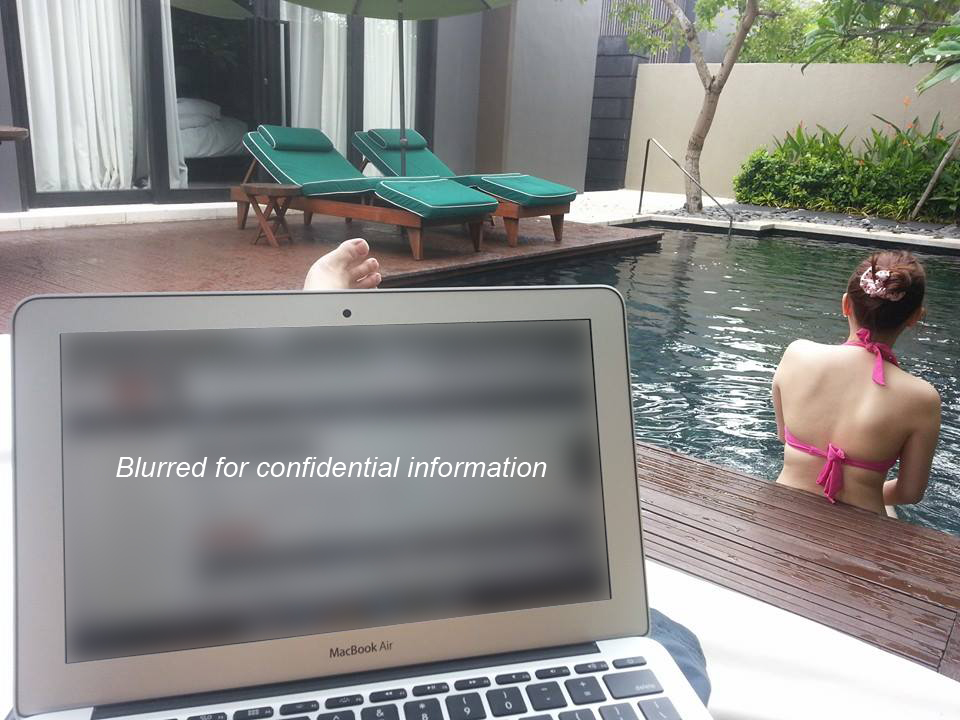 (this is when I was checking one of my business's income stats online while suntanning at W Retreat & Spa Villa, Bali.
Many of my family members and friends are curious how I do it.
Most of them are still struggling and complaining about their lives, their jobs, having no money and no time.
I feel helpless that I can't really help them out as I'm always traveling around.
When traveling, I always been thinking on
'How to help them?'
So after months of traveling, meeting entrepreneurs around the world, meeting different people from different countries, spending time to talk to them, I have a BIGGER Mission.
To help whoever sincerely needs my help and I will help them to: 'Escape the 9 – 5, Live Anywhere and Join the NEW RICH'
This MISSION you may be thinking that it's impossible.
But I have seen some of my close friends who are BIG TIME entrepreneur have already done it.
So I conclude that it is POSSIBLE.
When I interviewed them what make them so successful today?
They always have one common answer.
Their business have a PROVEN simple system that average people are able to operate it.
Last few months, I had spent my time to research and studied about systems all over the world.
You know what?
I have found it!
A system that is easily implemented by average people.
So I immediately create a team together to organize an Event to show you the system.
The information revealed in this event can literally CHANGE you LIFE.
The event is tomorrow.
I know it's a short notice but if you are not happy with your current life that you are having right now, and you have the desire to change it, I suggest that you go to this page to secure your seat now.
http://edmundrichtoh.com/sg/freedom
The event is in Singapore Only.
Sorry for those who are residing in other countries.
I am building it and currently expanding.
Once I'm ready to organized the event in your country, I will inform you.
Anyhow, go to this page to sign up now:
http://edmundrichtoh.com/sg/freedom
Make sure that you key in the right information to receive the actual venue.
As the event will be FULL house, I only want serious people to secure your attend.
Only Secure Your Seat when you are serious about it.
Good luck!
See you at the event,
Edmund Toh
Lifestyle Freedom Entrepreneur