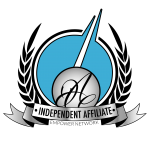 I just checked my Facebook just now.
You know what? One of my Empower Network direct team member (ALL IN Member) whom I work directly with, tag me with this pic on my Facebook.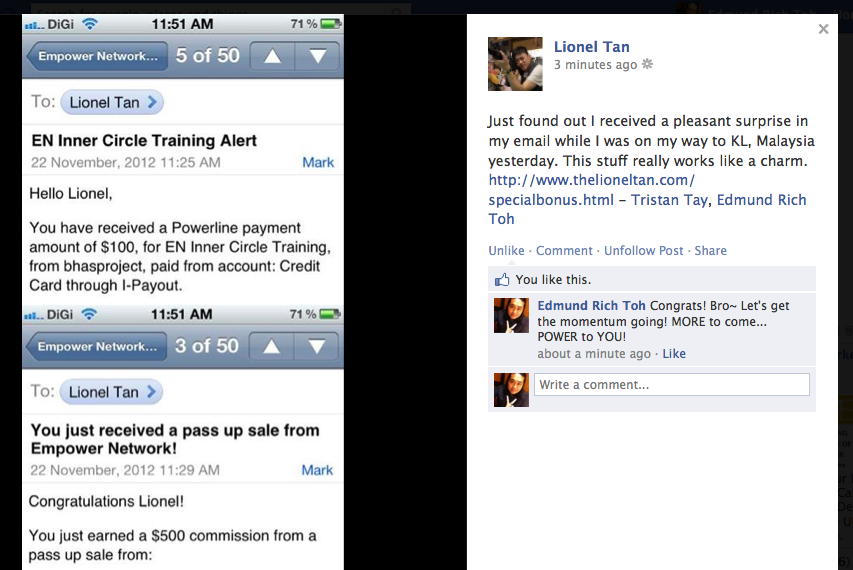 "Results are not typical.  Please see average earnings here"
Lionel Tan is one of my direct ALL IN Team member in Empower Network.
As he is working directly with me in my Team, I personally guide him on how to build Empower Network business the profitable way.
The day since he joined Empower Network through me, his commission checks get bigger and bigger every single month.
I wanted to take today – Thanksgiving Day – as an opportunity to say a special thank you to all my Empower Network Team Members.
I appreciate your support, and you are a big part of the reason why Empower Network is the most profitable and fast growing program today.
And also those who always read my blog and emails, I appreciate you very much.
If you are wondering how to work with me in Empower Network, here's the direct sign up link:
P.S. If you Get the ALL IN Package, I will personally meet you 1-On-1 in Singapore to give you a personal coaching session to help you get started. (Personally I feel that this is insane. Nobody in Empower Network offer this 1-ON-1 personal coaching session.
Why?
It takes a lot of time and effort and drain your whole energy to coach you.
You may asked me, why would I offer this?
Simple.
My goal for the next 2 months before end of year 2012, I want to help 5 2 willing, action takers to bring you from 0 to $10,000 income earner.
Why $10,000 income? Because I have made it myself.
Since I'm doing a 1-On-1 session, I limit my slot to 5 2 ALL IN Package members.
P.S.S. Stop sitting back and relax. Get up and TAKE ACTION.
I have left 2 slots to get personal coaching from me to train you to $10,000 income earner in Empower Network.
Once the slots are taken up, I will not be taking in any more personal coaching students any more.
Grab hold of me while you can.
Simply fill in the form on this page. Make sure you get ready your credit card or debit card as this is an essential tool to start your internet business. Some of you may say some excuses… "I don't have credit card or debit card…, I don't have time…, I don't have money…, I don't know how to use computer…, I don't have internet…"
Seriously… these are excuses to stop you from succeeding.
Find your way, if you seriously want to have a BIG breakthrough.
Money love speed. Take action now.
Read all instructions to get started.
Once you have signed up, go to my facebook to contact me. I will get in touch from there.
My Team Members' Testimonials:
~~~~~~~~~~~~~~~~~~~~~~~~~~~~~~~~~~~~~~
Case Study #1: Julian Wong who go through my training, made $4332 in his first 2 weeks.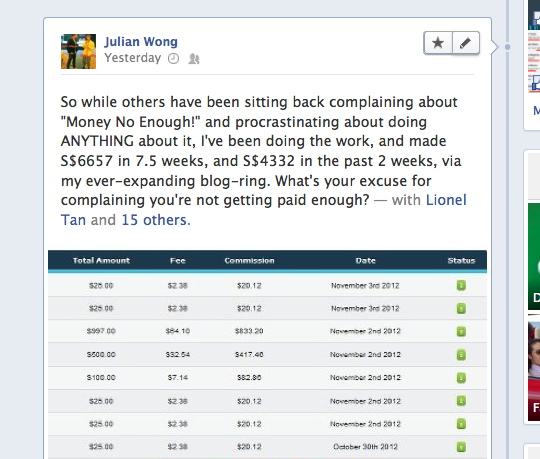 "Results are not typical.  Please see average earnings here"
Case Study #2: Lionel Tan who go through the same training made $2600 when he is serving his army in Singapore.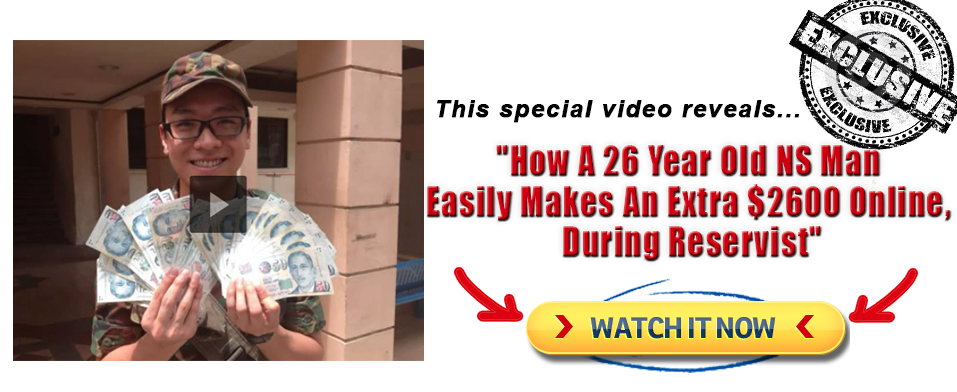 "Results are not typical.  Please see average earnings here"
Case Study #3: Now It's YOUR Turn! I want to post your success story here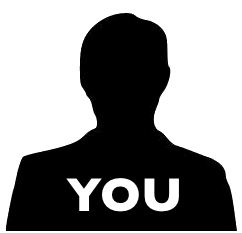 In the mean time, enjoy Thanksgiving Day, and we'll talk real soon…