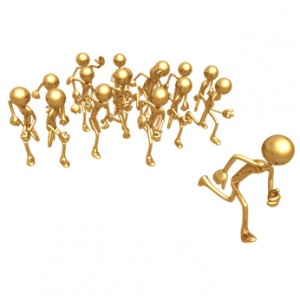 Like any other workforce, it takes an effective leadership to build a strong and productive network marketing team.
Success in the industry is not just based on the efficacy of the product or the stability of the company you promote; it is also based on your personality and your mind-set.
So if you're looking to create a powerful network that will help you succeed in network marketing, spend time to develop these leadership qualities.
Self-confident
If you are not confident with your capacity and abilities, how do you expect your network to look up to you as a leader? Being self-assured doesn't just mean that you're confident with the way you look or the way you project yourself.
A self-confident presence is calming and re-assuring. People gravitate to those who have it. Together, they perform productively and achieve maximum results. Simply put, without confidence, there is NO leadership.
Leads to Serve
No one wants to have a domineering and self-obsessed MLM leader. If you are overbearing and listen to no one but yourself, you will be your own worst enemy. Remember that people prefer to be associated with someone who has a good and humble character. They're always looking for a leader who leads to serve and help others achieve what they want.
Compassionate
Being a leader means dealing with the problems of your team on a regular basis. You have to learn how to separate the people with constant excuses for not being able to perform well, from those who really have problems which keep them from achieving their goals. What you need to do is spend time to discuss it with them; feel those problems and help provide pertinent solutions.
Bear in mind that your success is tied to your team's success. And in order for them to succeed, they need to focus their mind on the business, not on their problems.
Communicates Constantly, Clearly, and Accurately
Communication is not just about talking or writing. It's about relaying a message in a clear and concise manner on a regular basis. You can't lead a pack of highly qualified networkers if you don't even know how to communicate with them.
Continuously improves
An effective MLM leader constantly finds new ways to educate their network and grow their business—one who is never afraid to identify the areas in need of improvement.
Take time to look at your strategies and techniques then ask yourself: "How can we improve our methods to build a more solid network? What works and what doesn't? What do we need to produce more?"
Acknowledges when a problem arises and comes up with a relevant solution
When a problem occurs, don't procrastinate! Once you have successfully identified the cause, gather your team and tell them about it; suggest solutions and enlist their help to solve the problem. Be open to what your network recommends and come up with the best solution.
By practicing all the above qualities, you will have the power of influence on your network. You will gain their loyalty, respect, and confidence. They will follow you, trust you, and look up to you as a figure that they can depend on.
Only then can you become a true and effective MLM leader. Want to know how? Let me teach you!