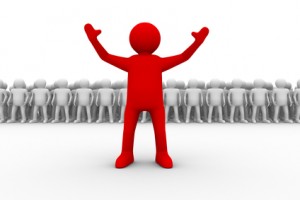 Becoming an MLM leader is one thing, branding yourself as one is another. And it's not easy.
In order to brand yourself as a leader, you need to make your prospects and downlines believe that you are what you say you are.
How can you do it? Below are three useful tips you can follow.
Give Value
The only way you can establish yourself as the authority and the "go-to" person is to provide value to people. How can you brand yourself as a leader if you don't have anything to offer? Get into training and educate yourself with the industry.
This way, you'll be able to appeal to the needs of the market. Get to know them and get them to trust you. This will lead them to tell you their problems. What you need to do now is provide relevant solution to their problem.
You may not know it but being a problem solver is a key step in becoming a successful MLM leader.
Build an Online Presence
So you want to brand yourself as a leader. You want to be known as an authority in the industry. You want the people to associate the product you're selling with YOU.
What you need is to build a solid online presence. Remember that you need to make your presence known first before you start acting like a leader.
Make use of social media. Create impressive profiles on major social media sites. Gain followers. Visit forums and other online communities where you can interact with people who might be interested in you.
Forums and social networking sites are a great venue for you to build trust and relationship with your prospects. Of course, establishing your online presence takes time. So be patient.
Stay Consistent
So you've built an online presence, met people and get them to trust you. It doesn't end there. You need to be consistent. You need to repeat the cycle all over again to strengthen your brand.
Establish more presence; penetrate more social media sites. Give value to more people, empower them and teach them to do the same.
Remember that consistency is crucial in this business. This will help you not only brand yourself as a leader but take your business to success.
See? Branding yourself as a trusted and successful MLM leader isn't that complicated. Just be sure to follow certain guidelines to effectively position yourself in the industry. Want to learn more MLM tips? Click here now!