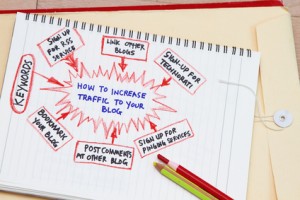 So you've finally decided to create a business blog for your MLM. Great! But you have a problem. You don't know a thing or two about traffic generation. Ooops!
No worries, I'm here to help.
Below is the list of traffic generation tips that you can follow to drive massive and continuous traffic on your MLM blog. Let's get your blog rolling.
1. Say NO to FREE blogs. Always use hosted domain when you're blogging for MLM business. The free hosting site can shut it down any minute, taking all your hard work down the drain.
2. Good content. Remember this: NO amount of SEO can save a MLM crappy blog. Write relevant, engaging and informative content. This will compel readers to visit your blog whenever you update.
3. Spice up your MLM blog. Make use of widgets, plug-ins and creative themes to attract people's attention. Everybody loves a beautifully-designed blog!
4. SEO. killer content + good amount of SEO = the perfect blog. Don't just write content. Incorporate SEO to get the traffic coming.
5. Link building. Get back links. There are many convenient ways to do so. But be careful in creating link juices. You only NEED quality traffic. Keep that in mind.
6. Use social media in generating traffic. You think Facebook, Twitter and Pinterest are just there for the sake of social networking? Think again.
7. Article marketing. There's this thing called article directories. And it's very very effective.
8. Forum marketing. So you love to interact with like-minded individuals and share your insights? There are thousands of forums on the internet where you can join and link your MLM blog to.
Just don't forget to give relevant and useful information. Otherwise, they will simply kick you out.
9. E-mail marketing. How's your mailing list going? Oh, you don't have one? Then, it's time for you to build your list. More list means more traffic.
10. Viral marketing. Make a viral video or a very catchy, attention-grabbing headline. This will surely get your MLM content go viral. Just be sure that your headline justifies the body of the content.
11. PPC campaign. Have an extra budge for promotion? There's Facebook Advertising for you and Google AdWords. Use the right keywords and target the right audience.
12. Blog commenting. Surely, you follow other blogs? Participate in the community of bloggers and communicate with them. That comment section at the bottom of the blog page is there for a reason. Use it.
13. Guest blogging. If you know other people whose blogs are related to your niche and enjoy massive amounts of traffic, apply to be a guest blogger. Of course, most of them, if not all, require high content standards.
So be sure to give the best pitch. If accepted, you'll see the traffic through the back link trickling in.
14. Offline Marketing. Who says you can only promote your MLM blog online? There are effective offline promotional tools, too. These include business cards, flyers and brochures.
15. Blog, blog blog! Of course, no matter what marketing strategy you use or how great your content is, if you don't blog consistently, visitors won't flock your blog regularly.
If you can't do it on a daily basis, try blogging at least thrice or four times a week. Nothing beats an insightful and regularly updated MLM blog.
Want to learn more in driving traffic to your MLM blog? Click here to find out!