When comes to building and growing your network marketing business, getting prospects is a hurdle to most of you.
But after I implemented this strategy, I got prospects asking me for my contact to find out more about my opportunity.
What I did yesterday… is simple.
I basically write a useful blog post which teach my subscribers on "How to Get Traffic to Your MLM Website"
After a day, see what happen.
It went viral.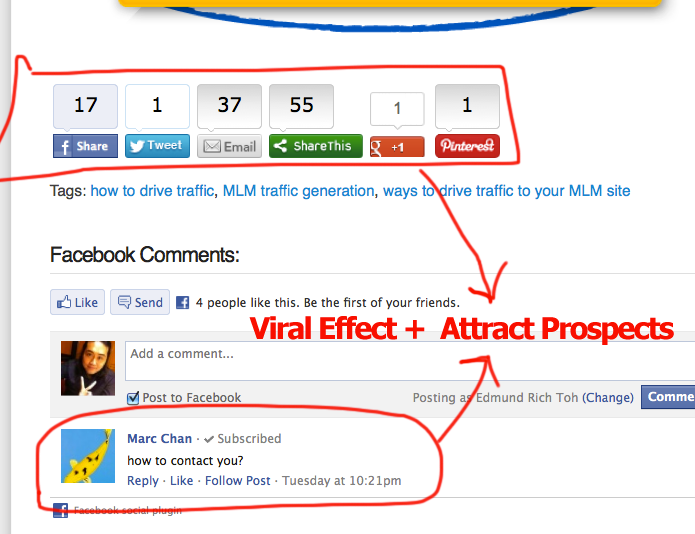 There are always people who like reading the blogpost that you post.
So what do you think that they will do if they find something useful?
They will SHARE.
It's human nature that if you find something that are useful… and even better when it us free, they will naturally and actively sharing it to their friends and family members.
So for you, do you like to share great stuff? 😉
Anyhow… here are the break down of the viral effect…
17 share through Facebook
1 share through Twitter
37 send it to their friends through email
55 using ShareThis to share with their friends
1 use Google Plus
1 share through Pinterest.
Cool right?
The best part is… a hot prospect is finding ways to contact me to find out more about what I have to offer.
Want to learn how I did it?
How I got this viral effect is very simple.
Just loging to your wordpress blog, under plugin section, look for this free plugin call ShareThis.
After that install it and activate it.
Then let this plugin do the sharing for you when you start posting your next blog post.
Simple enough?
Actually there are many marketing strategies out there which are very simple to implement. You just need to know where to find it and who you learn from. ——-> me 😀
Anyway, hope you like this traffic getting method today.
Let me know what you would like to learn by commenting below…
I will try my best to share some of my best-kept secrets with you in the next few blog post.
P.S. How would you feel when you wake up in the morning and see commission flowing into your bank account every single day?

By the way… this screenshot taken today… 19th September 2012. It's not some outdated screenshot.
If you were to ask me the same question, "How would I feel?"
My answer to you is only one word.
"Awesome!" 😀
If you want to know how you can have daily cash flowing into your bank account automatically even while you are sleeping, I suggest that you stop what ever you are doing right…
Focus on this computer screen of yours and start reading attentively when you hit the next page.
P.S.S. You might be starting to make money after reading finish the next page.
[high_impact_btn_get_access_now link="http://edmundrichtoh.com/lacs/empower" + target="_self"] [/high_impact_btn_get_access_now]