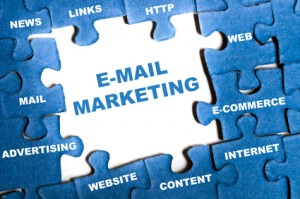 E-mail marketing is a crucial element of any marketing plan.
And the phrase, "money really is in the list" rings very true.
That's why it's important to have an e-mail capture page and a subscribe button on your MLM website. Because how else are you going to build an opt-in list?
And if your weekly newsletters and promotional e-mails prove to be valuable to the people in your list, your e-mail marketing efforts will be highly beneficial for your MLM business.
So what are the benefits and how can you make e-mail marketing for your MLM business?
It will establish YOU as a trusted expert.
When your visitors sign up to your e-mail list, they expect you to provide them useful tips and information. And once you consistently deliver engaging, educational, and compelling content on their inboxes, they will begin to trust you as a go-to person in your field.
If they want to know something related to your subject matter, they will come to your website to look for answers.
Let's say your subscribers are asking for tips on how to leverage Facebook to grow their MLM business. For example, in addition to your weekly newsletter, you can start a step-by-step training on "How to Become a Facebook Advertising Expert to Create Bigger Results in MLM!" to address their concern.
Remember that providing solutions will not only build trust but also foster loyalty from your subscribers.
It will drive targeted traffic to your website
Sending e-mails to inform your subscribers of the new content on your blog is a great way to increase your blog traffic. A link will appear at the bottom of the message where your followers can click through to visit your MLM site.
You can also provide a "call-to-action" on your e-mail blasts to ensure the response from your subscribers, like:
Join me 24/7 at the following channels:
Facebook: http://www.facebook.com/YourBusinessPageFacebookURL
Twitter: http://www.twitter.com/YourBusinessTwitterAccountURL
Or you can visit my site: www.YourMLMBusinessSite.com
And whenever you have a webinar or an event coming up, you can end your pitch with:
I can't wait to see you there! So what are you waiting?! Grab a seat and don't miss out on this amazing opportunity!
Naturally, for this method to work, you need to embed the sign-up link for the event.
E-mail marketing makes for an effective "word-of-mouth."
So you just posted a highly engaging content and you managed to inform your subscribers about it through an automated e-mail blast.
Surprise, surprise! It became a blockbuster hit on your subscribers.
Because you didn't just impart great knowledge to them, you also gave them a good laugh. What do you think they will do? They will share the content to their followers in their various social network sites, of course.
See how effective e-mail marketing is for your MLM business? Now that you know all about it, let me teach you more tricks. Click here now!