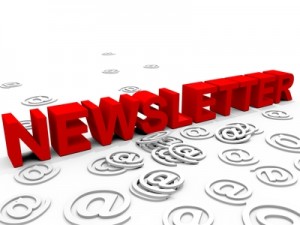 Everyone has probably visited a website which has requested for their e-mail address as a subscription to the site's newsletter or Ezine, and a huge majority of you people might have not filled out the brief form.
In spite of the supposedly vast stores of knowledge promised by page owners when you sign up for their online publications, not that many of us are convinced well enough for us to go to the effort of typing in our e-mail.
And even if people do sign up for newsletters and Ezine, the chances of them reading the publications are still quite slim.
Using newsletters and Ezine is recently becoming a popular way for network marketers to market their products and MLM business as well.
However, you should learn from yourself and know deep in your heart of hearts that the idea of giving out your e-mail for you to receive potentially spam messages and some lengthy online publications holds very little allure.
If you want to have newsletters and Ezine, then, would require you to brainstorm quite a bit and avoid the mistakes most of the blog or site owners you come across commit. Well, here's a brief list of these common mistakes.
1. Your lead capture page looks too pathetic and/or desperate.
It is a must for every network marketer to design his MLM lead capture page in a way that will boost his reputation among visitors the moment they chance upon the website.
Your lead capture page must then have relevant content –from video testimonials, a list of your credentials and the like– in order to successfully capture leads.
Put too little of that then you have a plain and dull lead capture page which certainly won't send a positive message, while putting too much and going a little over the top will make you sound desperate which will surely send your leads' alarms ringing.
2. Sign-up is too much of a hassle.
While you may want to know about your leads' birth dates when you're already working together, having a sign-up form which looks more like a slam book entry would discourage site visitors from ever signing up.
A lead's name and e-mail address is more than enough for you to be able to send them your newsletter and Ezine.
3. Your publications are great… not.
Far more than any other stupid mistakes you can make in using newsletters and Ezine, producing such publications with poor quality will discourage leads from reading its next issues.
Devote ample time to creating your business' newsletter and Ezine if you wish to impress as well as inform your readers.
A newsletter or Ezine of great quality has an equally great chance of bringing you the MLM leads you need.
Network marketers have to be diverse and flexible, and you should learn to utilize different ways of marketing your business. Creating newsletters and Ezine is surely an ideal way for you to get closer to your MLM  leads and is an opportunity you certainly wouldn't want to pass you by.
Want to learn more internet marketing techniques in MLM? Click here now!