Today I just login to my Getresponse and saw my newly built list have grown to 214 new subscribers from 72 subscribers on the date of 13th Aug 2014. Basically I have a consistent growth of 30+ subscriber a day as of now. Looking forward to scale up my traffic.

72 Subscribers as of 13th August 2014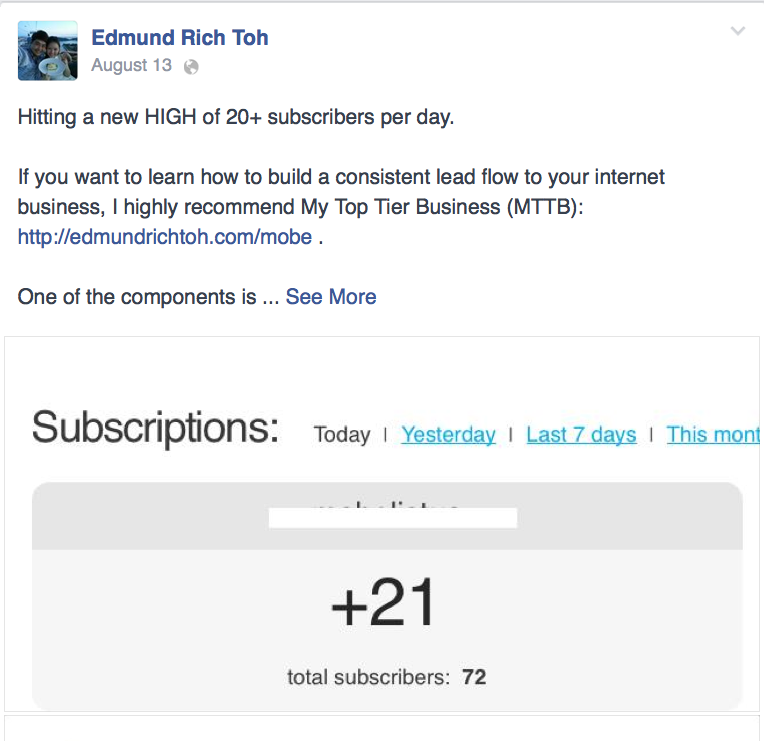 214 Subscribers As of 17th August 2014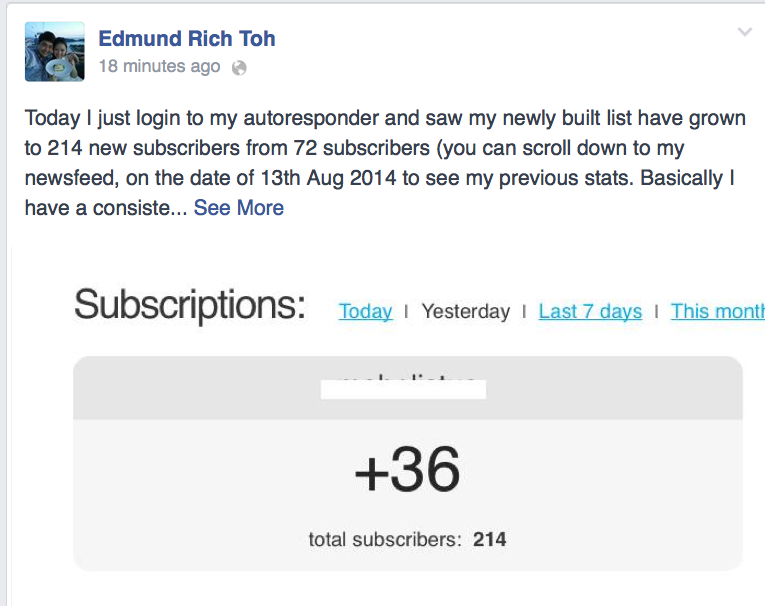 "Results are not typical. Please see Income Disclaimer here"
Luke Lim's strategy that he shared with me to build my new list with PPV Traffic for MOBE, works like crazy!
He will be holding his LAST I.M Freedom Workshop in Singapore this coming Tuesday (19th August 2014). So meet him LIVE and picks his brain while you can.

Click below to register to attend the I.M Freedom Workshop Singapore. Strictly no walk ins allowed.
http://imfreedomworkshopasia.com/workshop/workshop.php?affid=EdmundRichToh
GOOD NEWS!
I know Luke's strategy works and he always gives a lot of values when you ask him about building a 6 figure successful online.
I have personally tried his methods and it works!
Few days ago I arranged a private met up face to face with him and I literally twisted his both arms and he finally agrees to give his bonuses that he offered to his members who are attending to the Home Business Summit (Singapore) which is held in Singapore this weekend, to my members too!
YES! You see it correctly.
He will be giving out his bonuses to the sign up via my referral link. *evil grin* hehe.
Basically you will get the bonuses too!
I not sure how long he would offer these bonuses to my new members, but I'm sure that if you sign up today, you will get it.
So click the link below to sign up for the Home Business Summit and get your FREE BONUSES:
http://imfreedomworkshopasia.com/video/hbsbonuses.php?affid=edmundtoh&adchannel=edmund
Of course, I will throw in my personal bonuses if you sign up via my link.
As many of you are always information overload and not sure how to kick start an online business. You are also scare of not able to follow. Right?
So I have come out a MOBE Shortcut Online Training for you.
I will personally do a live Google Hangout (Value US$1497) with you and help you to get started FAST. No more sitting in front of the computer and feeling stuck.
Here are the 3 Steps to make money online.
Step 1: Setup the business the correct way. <– This is very important which you can learn via my MOBE Shortcut Online Training
Step 2: Drive traffic to the MOBE Funnel <– You will get a traffic coach when you signed up MTTB which I will pay for you as a bonus when you attend the Home Business Summit.
Step 3: Make money. <– When you fulfilled step 1 and step
So invest in the home business summit today and let's get started.
http://imfreedomworkshopasia.com/video/hbsbonuses.php?affid=edmundtoh&adchannel=edmund
Contact me via Facebook after you sign up: http://facebook.com/edmundrichtoh
Have an awesome weekend! Talk soon~
P.S. If you can't make it to the Home Business Summit held in Singapore, and just want to sign up MTTB, go here now for more information: http://edmundrichtoh.com/go/mttb
If you have already watched the video and ready to signed up, go to the direct sign up page here: http://edmundrichtoh.com/go/mttb/signup
Let's make 6 Figure by Christmas this year! POWER to you!