Hey, Just to update you about my health after the Chicken Pox Epidemic since last 2 weeks ago.
I have fully recovered! Only left a few scars on my body.
Anyway, how have you been these 2 weeks? Hope you are well.
Let me get you some development of what I have been doing when I was resting and fighting the chicken pox virus.
After 1 week of war with the virus, I am able to eat and sleep normally but I can't leave my house just in case I infect another person.
So in the mean time, I am only able stay at home and stare at my computer for some entertainment and continue build my business online. So I do my usual stuff and studied some of the marketing stuff from all the online marketing expert around the world.
I stumbled upon a system which I am very impressed. It is a funded proposal system. The system  is powered by the 7 Figure Networker System.
As you can see, when you are starting out to build a network marketing business, if you agree with me, not many people or not even one person would join you if you are a newbie in this industry.
If you are going to build your business using the old school method, you will be losing a lot of friends around you and you will have a hard time building your network marketing business and in the end quit is the solution to cut your losses in the business.
This is what has happen to me 8 years ago.
With a funded proposal system, it is a system to brand you as an expert and to help you recruit new downlines to your primary network marketing business. It is a  marketing funnel which consist of a very low cost products which is priced under $50. This products are made to teach network marketers on how to build their business on the internet.
Since most people who are interested in building their business are already in a primary network marketing and it is hard for them to join you if you are just starting out in a network marketing business.
The solution is to market products or information to this niche market and make money up front and let the system to do all the selling and recruiting for you.
And the best thing is that this system will have many upsells which will help you make more money before any one join your primary network marketing.
You can use this upfront cash to advertise and build your primary network marketing business.
So I put a test into this 7 Figure Networker System.
I started out this system on the 1st February 2012 as shown in my screenshot from my personal
email inbox below.
During these 10 days, I generated 774 leads using a email system called Getresponse. I integrate this email system with 7 Figure Networker System which this system allow me to collect my own leads.
I average about 77 leads per day.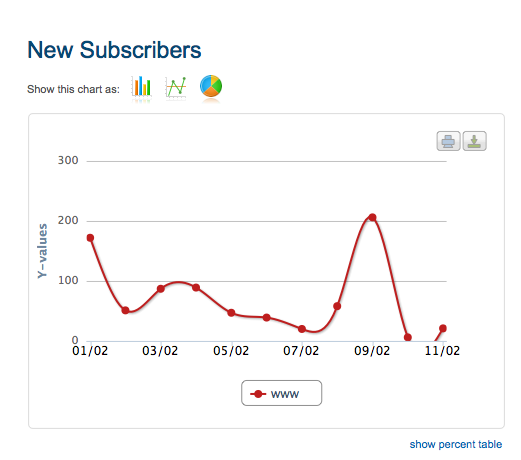 Guess what is my result after generating 77 leads per day?
Here you go…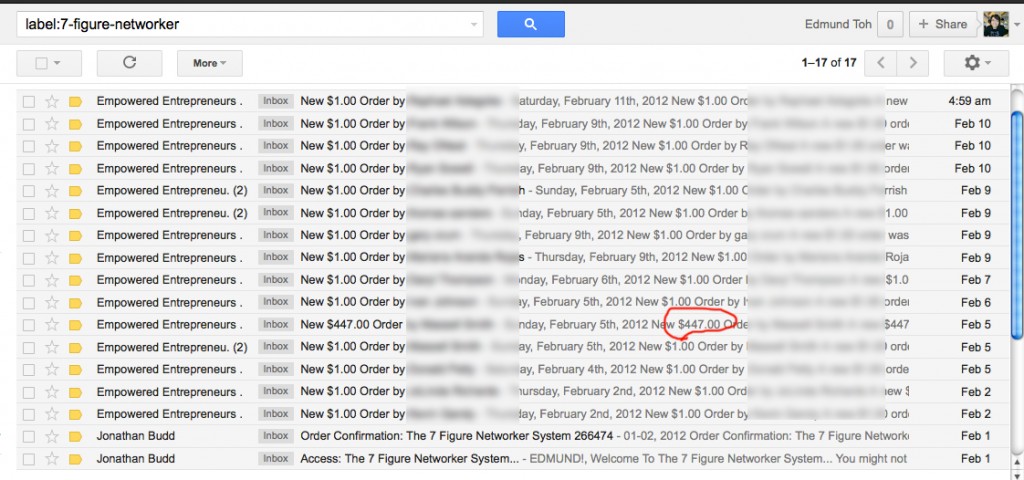 I personally referred 14 members to use this system.
You can see that there's a lot of $1 order and you may think it's peanut.
Let me reveal to you one secret. This $1 is a 100% commission back to you. And after 7 days, the members are being charged $49.77/mth.
So having a 30% commission, it's $17/mth.
So $1 + $17, you will make $18 profit for the first 7 days.
And you can see that i also got a $447 order from a member who join at an upgrade of 1 year subscription (He save more money when he go for 1 year subscription). For 30% commission is a $134.00.
So for this 10 days of effortless work, I got a monthly residual income of 13 members x $17/mth = $221/mth and annual residual income of $134/year.
Not bad for 10 days of work ya… ?
Another tip on how to find a good funded proposal system is to make sure that the system got continuity program built in.
I love to promote as continuity programs because the programs are billed monthly. You just have to market it one time and even when you are sick or choose not to work anymore, the income will still go into your bank account every single month.
It is like a self-restoring bank account.
Cool right…. ?
At the end of the day… let me do a conclusion in a marketing point of view.
For 774 leads, there's 14 members joined.
It's a 1.8% conversion rate.
Normally, for an affiliate program which have a conversion rate of 1% is consider good.
So for 7 Figure Networker System, I am recommending you to promote it as the conversion rate is MORE than 1% and close to 2% from my personal stats.
And on top of that, it pays you month after month.
Hope you have benefited and learned something from my sharing today.
Talk soon.
P.S. By the way, do you know how I am able to generate at least 77 targeted leads per day into my system and make a few hundred bucks residual income effortlessly?
I own it to one of the marketers that I learned from and I also respected in this industry.
Go to this page in order to check out who this person is and see how he has helped me through these years when I started out marketing online.