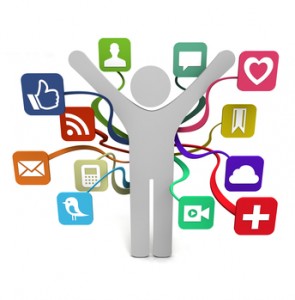 Use Social Sharing Buttons
Who doesn't use social sharing buttons nowadays? Everybody does and it's time you do the same.
Luckily for you, there are many social sharing plugins you can take advantage of.
This way your audience won't have the hassle of copying the link of your post and pasting it to their browser.
Connect With Other Bloggers
You can also boost social media sharing by connecting with other bloggers in the blogging community. Connecting goes both ways so for as long as you'll return the gesture in the future, they'll do you a favor.
There are so many advantages of blogger connections. Not only can other bloggers help you generate traffic with their existing reader base, they can also impart useful blogging tips and strategies to you.
Always Use A Conversational Tone
People are more drawn to casual, conversational blog posts. Because, let's face it, nobody wants to read a boring, monotone article.
It may work in journalism, but never in topics like blogging and internet marketing.
So when you're writing your next blog post, keep this tip in mind. It will definitely boost your social sharing.
Include A Click To Tweet Image/Option
Using a click to tweet image/option is another way to boost your social sharing.
Either at the top, in the middle, or at the bottom of your post, put a clickable image that will allow readers to automatically tweet the blog post.
This method has been proven to boost sharing and increase traffic both at the same time.
Conduct Interviews
Approach expert bloggers  in your industry and ask them if you can get an interview.
Make sure to ask the interesting questions – questions that your readers will want to read – and then post them to your blog.
The more popular the expert you interview is, the more sharing and clicks your post will likely to get. So get started by finding those bloggers.
Make Use Of Infographics
People love seeing visual images. So making use of infographics in your blog will do you more good than harm.
Studies show that doing so will effectively generate traffic and if you do it regularly, will eventually increase your readers by the numbers.
This will, in turn, boost your social sharing.
Now who doesn't want that?
There you have it – effective ways in boosting your social sharing. But I'm sure you want to learn more internet marketing tips.
So what are you waiting for?