Today is Vesak Day which is the day where Buddhist is celebrating the Buddha's Birthday and also a public holiday in Asia.
How have you been?
Hope you are enjoying a long weekend this week.
You know what?
Today, I would like to announce a GOOD NEWS to you!
When I logged in to my PureLeverage Account today.
You know what I found out?
I am ranked 11th in Pureleverage globally.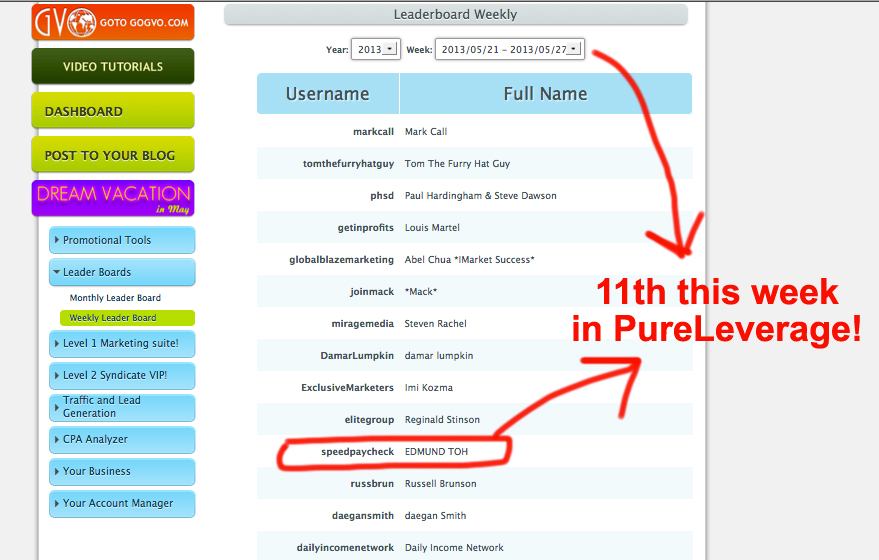 I'm glad to see that I, as an Asian Dude, is finally recognized in Pureleverage, and catching up with the Heavy Hitters in Pureleverage.
You may asked, how do I do it?
It's very simple actually.
The formula is…
"The MORE subscribers you have the MORE Pureleverage signups you will get"
Easy to understand?
Let me show you the proof.
For this week, I generated 942 NEW Subscribers. Just an average about 134 NEW subscribers a day.

From this stats, you can see that if you want to make money in Pureleverage, you just have to focus on one activity which is generating NEW Subscribers to Pureleverage sale funnel.
Pureleverage sale funnel is converting like crazy if you are getting the right traffic to your offer.
If you are wondering what's Pureleverage is, you can read more about the program in my earlier blogpost here.
If you already know about Pureleverage long time and already convinced that Pureleverage is right program to work on this year, you can work with me by joining my team.
I'm looking to train a selected few to be like me, appear in the leaderboard in Pureleverage.
As I'm based in Singapore. I would want to see MORE Asian names appearing in Pureleverage leaderboard.
Who says Asian dudes can't make it?
We shall see!
See you at the TOP!
Here's the link to join me today. Just $1 to TEST Run the System.
[high_impact_btn_sign_up_now link="http://www.pureleverage.com/prelaunch/join_now.php?id=speedpaycheck&campaign=blogpost24May2013″ + target="_self"] [/high_impact_btn_sign_up_now]
P.S. Once you have joined Pureleverage, make sure you get all the upgrades that Pureleverage offers if you want to maximize your earnings.
This is what I call. GO ALL IN.
If you are serious in building the business, I highly recommend that you do so.
Once you are ALL IN members, look for me in Facebook. I will get you started in the training to get you to the leaderboard.
P.S.S. I only work with serious business builder. POWER to you!