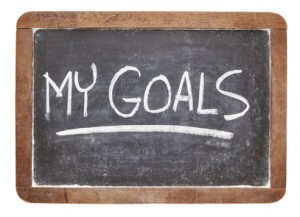 In internet marketing, it's important to set goals.
But just because you set goals doesn't mean that you are already guaranteed to get results.
Not only do you need to get started on your goals, you also need to stick to them and see to it that they will be achieved.
In order for that to happen, you have to stay motivated and inspired.
And what better way to do that than to set your goals in stone?
Now how do you do that?
1. Create a vision board
Instead of writing a list that you're more likely to misplace, use your creativity and create a vision board.
You can utilize cut-outs from magazines – be it pictures or letters – or you can also use craft materials. Whatever you see fit for your vision board.
Remember that the board will serve as a reminder to your goals so you better take the creation seriously. Once done, stick it where you will see it most.
2. Use photos as inspiration
Maybe you don't feel like creating vision board. Or you're too busy to get around to doing one.
Then be straightforward and use photos instead. Maybe the images of cars, mansions, or money motivate you.
Put these images in places where it will be easy for you to see them a couple of times a day, reminding you of your goals.
3. Make use of applications
If you're not into the traditional ways mentioned above, then you can go for a techy one. Your smartphone has a notepad for a reason.
Make sure to list your goals there. And to ensure that you always see it, screen capture the list to turn it into a picture. Then finally, save it as a wallpaper.
Now every time you look at your phone, whether to check the time or read messages, you'll always be reminded of your goals.
4. Tell other people about your goals
Tell others about your goals, but not everyone. Be selective – preferably to people who are close to you and you know will support your goals.
Otherwise, you'll end up getting flak for working on achieving your goals. In turn, it will dampen your drive to succeed.
So make sure that you're only sharing these goals to people who you're sure will inspire and motivate you to do better.
Now that you know how to set your goals in stone, it's time to do it.
But before that, let me teach you more personal development tips.