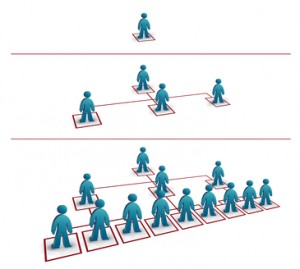 It takes great leadership for an MLM business to succeed and flourish. However, great leadership can only get you as far. Any great leader needs an equally great downline organization for the MLM business to flourish.
The only problem is some leaders fail to organize a team that will bring out the best in their leadership skills, ultimately wasting them. Do you want to build and organize a team that will help you on your road to success?
Here are some common mistakes in building a network organization that you should avoid.
1. Get random strangers to join your team. It surely is an exciting thought to have a network organization that goes several levels deep in no time. However, just getting everyone you can find to join does have its disadvantages.
You are recruiting members that may not have the dedication and skills that members of your team should have. Be picky in choosing members for your team and set standards.
Don't ever go for mediocrity if you could aim for excellence.
2. Forget about training. You could always use some improvement especially when it comes to the members of your team. Don't go for a second thinking that they are perfect just the way they are and that they don't need any training at all.
Training your MLM team will equip them with the skills they need to become productive members of your team and will give them a better view of how they should work as members of you team.
3. Don't build friendly relationships with your team members. This is another mistake that leaders often commit when they are building and organizing their downline. Your team members aren't machines that will just work, work and work.
They still need to feel the personal touch from their leader and will boost their morale.
Being friendly with the members of your team is likely to make them more productive and will prevent any hostilities or oppositions towards your leadership.
4. Tolerate passivity. As a leader, you should never tolerate your team members for being passive. They should be, at all times, active in working for the business's success. It would do your team good if you set a certain quota that has to be met on a regular basis.
This will motivate them to be more productive and will set their minds to work until that goal has been reached.
These are just some of the things you shouldn't do when building and organizing your MLM business. Keep in mind that without a great team to work with, your leadership skills will be put to waste no matter how exceptional they are.
Aim for a MLM team to complement your great leadership skills.
Learn more valuable tips in building your downline organization here