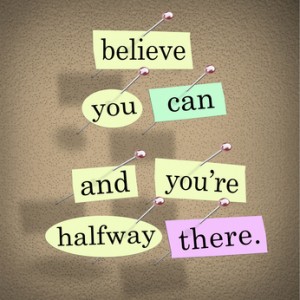 Having a confident mindset pays.
You may not know it, but it's one step closer to success.
You'll have more confidence to improve your craft and grow your blog, or online business, or what not.
That said, if you have no idea how to cultivate your mindset, here are some tips for you to follow.
1. Don't act someone you're not
The best way to be confident is to be honest with yourself. It's important for the people around you to know who you really are and what you are made of.
Don't act like someone you're not. The saying "fake it till you make it" doesn't work most of the time. It will only do you more harm than good.
Being true to yourself and honest to other people will be crucial to building valuable relationships and expanding your network.
2. Express your ideas and thoughts
You already have a platform  – your blog. Now use it to express your thoughts and ideas. Of course, it doesn't have to be too personal and intimate if you don't want to.
And, naturally, it has to be related to your niche. Don't be afraid to add personal thoughts to your content to add a personal touch.
Your readers will enjoy your blog more.
3. Connect with others
The blogging community is a large one and full of competent bloggers. So don't hesitate to connect with your fellow bloggers, preferably the ones related to your niche.
Not only will they help you build confidence, they can also impart great ideas and help you expand your readership.
4. Be open to new possibilities
Staying in your comfort zone will not help you cultivate a confident mindset. In fact, it breeds insecurities and negative thoughts.
Now being open to new possibilities will open great avenues for you. This, in turn, will affect your blog and online marketing efforts in a positive way.
But most importantly, it will give you the confidence you need.
5. Think positive
If you have negative mindset about things, chances are, you'll only attract negative results. Which means that it won't help your effort to build confidence.
What's more, this won't help your quest to success and you'll end up feeling disappointment.
So if you're feeling down, try to think positive by envisioning yourself in the future. How do you see yourself three to five years from now?
Doing so will not only make you feel better but will also motivate you to produce better results.
Want to learn more personal  development tips? Then click this link now!