Yesterday I wrote a blog post about using Attraction Marketing to build your network marketing business.
Today I will explain more about this powerful technique.
You have got to harness the power of attraction if you want to succeed in your network marketing business.
And this technique is a MUST if you want to make it BIG in this industry.
So what is Attraction Marketing?
Attraction Marketing is the use of marketing techniques specifically designed to teach your prospects what you are doing and how a service or product will benefit them well before they hunt you down eagerly to purchase what you offer.
So how do you actually apply attraction marketing in your network marketing business?
It's very simple.
You just have to add something special, or something of value to your prospects' live.
Adding value is the way to build trust, create mutual respect and make people look up to you as their mentor or mlm leader.
When you have harnessed this technique,  you don't have to persuade or sell your network marketing opportunity anymore.
Instead, you have too many prospects with their credit card in hand ready to join you in your network marketing business, thus you are just organizing the people who want to work with you, separating them from those who don't.
Let me show you some of my Attraction Marketing case study which I have test out a yesterday.
Yesterday I have write a blog post which teach one strategy to build your network marketing business.
See what I got.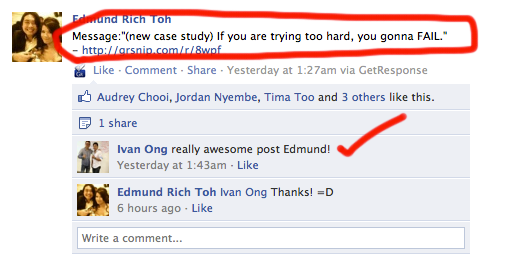 I have quite a few of my facebook friends who read my blog post, 'Like' what I have shown them and got good comments and even someone shared my post to his facebook friends.
See how viral it can be by just using 1 blog post?
See the leverage of having just 1 blog post content and your post can be seen every where – "Email list, facebook, twitter, and even word of mouth"?
Another friend whom I did not met before. His name is Paul Vere and he requested me as friend and I accepted him.
See what he commented?

See how the powerful attraction marketing works?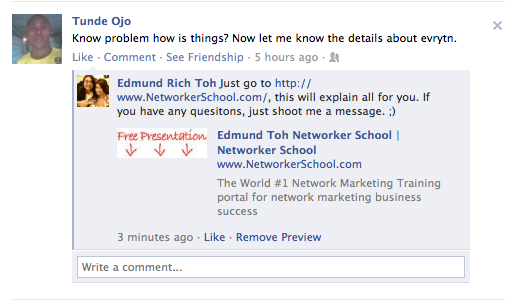 Another facebook friend, Tunde Ojo, asked me to show him how my network marketing opportunity works?
He want to know the full details of the system I'm using.
Actually there's more… I just put up some of the real time case study here.
See how you can get so many people interested in what you are doing in just 1 day?
If you are still using the old fashion way of prospecting… how tough can it be?
Do you still want to call all your friends and even your family members to listen to your opportunity?
Do you still want to give flyers or do surveys at shopping malls, school or bus station?
Do you still want to buy expensive unresponsive leads and call them one by one and get shouted at "STOP CALLING ME"?
Hate doing all these energy draining methods right?
Me too…
I have been using these methods last time.
But now… It's DIFFERENT.
And the best part is…
The Internet.
With the Internet, everything have been simplified.
You can do all the prospecting and sponsoring 100% online.
Still can't imagine it can be done?
Below is my real time screenshot from my inbox.

See all is done within 3 days.
At least 61 leads generated.
3 paid sign ups.
One of them did you recognized his name?
"PAUL VERE"
From the screenshot above, he requested me as friend and looking forward to work with me.
How this can be done easily is because I have an automated internet prospecting system in place.
The good news is…
You are ABLE to OWN one today.
You don't need to reinvent the wheel and create your own system.
This system has the technology to capture targeted leads and add value to the lives of your prospects, thus making you a leader using the concept of attraction marketing.
This is the exact system that I am using right now.
If you have over look this system for the past few days or even months.
I highly recommend you to put down everything you are doing right now.
And watch this short video that explain about this prospecting system.
Watch this empowering video which can change the game of your network marketing business.
P.S. After you have join my team, contact me. I will try my best to help you succeed!
P.S.S. Stop procrastinating. Procrastinating bring you no where.
P.S.S.S. If you are still stuck at where you are at… you are in a comfort zone. Do you think that you are doing the same thing everyday? Wake up in the morning, rushing to work with all the traffic and human jam, finish work and come back home to sleep, and forcing yourself to wake up the next morning? It's a vicious cycle. It's deadly. Sorry to frighten you. But I just want you to take action today. I meant good to you and hope you understand. 😉
POWER to YOU!